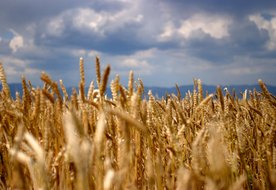 Packed with nutrients, wheat germ is the smallest part of the wheat grain. It may be small in size, but the small germ portion of the kernel holds many essential, daily vitamins and minerals, including B vitamins, vitamin E, potassium, zinc, iron and magnesium. Adding nutrient-rich wheat germ to foods ensures meals receive a healthy boost. Try adding wheat germ to shakes, pancakes and cereals.
B Vitamins
One-half cup of wheat germ provides almost 1.1 milligrams of thiamine, or vitamin B1, according to the U.S. Department of Agriculture. That's 100 percent of the recommended daily intake for a healthy adult woman. Vitamin B1 keeps your body filled with energy, helping sugars break down in your body. Vitamin B1 also encourages nerves and muscles to work together and keeps your heart healthy. Vitamin B9, or folate, another B-complex vitamin, is plentiful in wheat germ. A 1/2-cup serving of wheat germ supplies 162 micrograms of folate, which is 41 percent of the 400 micrograms women need each day. Folate prevents anemia by supporting red blood cell and skin cell production. Adequate levels of folate during pregnancy can help prevent neural tube defects. Riboflavin, niacin and B6 are other B vitamins present in wheat germ, and these support nerve function, the proper breakdown of sugars and the lowering of cholesterol levels.
Dietary Fiber
Crude wheat germ is a good source of dietary fiber. Dietary fiber helps regulate bowel function, improve cholesterol and blood sugar levels and keep unwanted pounds off. According to the Centers For Disease Control and Prevention, taking in 14 grams of dietary fiber for every 1,000 calories meets the recommended daily dose. A 1/2-cup serving of wheat germ provides 7.6 grams of fiber.
Minerals
Minerals found in wheat germ include selenium, phosphorus, copper, zinc and magnesium. A 1/2-cup of wheat germ contains about 46 micrograms of selenium, which is 84 percent of the 55 micrograms women should have on a daily basis. Selenium plays an important role in promoting your body's antioxidant ability as it finds damaging free radicals in your body. Selenium might help prevent many chronic illnesses including asthma, heart disease, rheumatoid arthritis and cancer. Phosphorus helps bone health and energy production. Copper prevents tissue damage from free radicals produced when food breaks down. Zinc stabilizes your metabolic rate and supports your immune system. Magnesium, also known as a macromineral, helps maintain a healthy heart and protects against developing Type 2 diabetes.
Health Benefits
Wheat germ promotes good digestive health, which can help with weight control. Wheat germ helps balance blood sugar, which is important for lowering cholesterol and preventing diabetes complications. Additional health benefits include an overall healthier feeling, preventing gallstones, migraine headaches and brittle bones, and improved mood and sleep patterns.
This article reflects the views of the writer and does not necessarily reflect the views of Jillian Michaels or JillianMichaels.com.