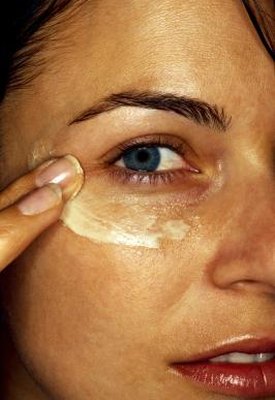 The skin surrounding the eye area is extra-sensitive because of its thinness. As we age, the skin becomes even thinner. Therefore, the eye area needs to be protected from accumulated damage that occurs over time. There may be some improvements seen with vitamin treatments applied to dark circles around the eye. However, consult a medical professional before using vitamin creams for dark circles, to verify the symptoms don't indicate a more serious condition.
Factors
The contributors to dark circles around the eyes include environmental stressors, poor diet and even the normal metabolic processes of cells, according to an article published in August 2008 in "Clinics in Dermatology." One of the largest environmental factors is UV exposure from the sun. However, some of the damage can be avoided or reversed by the topical application of certain types of vitamins.
Antioxidants
Antioxidants are compounds that protect cells of the body from damage or death. Included in the list of antioxidant compounds are the vitamins A, C and E. These compounds are capable of binding to free radicals, or substances that bind to and attack healthy cells. The accumulated effects of this cell protection offered by antioxidant vitamins applied topically results in visible outcomes such as the reduction of dark under-eye circles, according to the August 2008 article in "Clinics in Dermatology." Look for creams with ascorbic acid and retinol, which are often combined with any number of emollients such as avocado and soybean oils to moisturize and protect the eye area.
Vitamin C
Vitamin C may help reduce under-eye circle darkness, particularly when the cause is due to the congestion of the blood. People with under-eye dark circles who applied a 10 percent sodium ascorbate form of vitamin C lotion saw visible improvements in a study published in May 2009 in "Skin Research & Technology." Specifically, patients observed increased skin thickness and less discoloration.
Vitamin K
Vitamin K may help eliminate dark circles around the eyes. Researchers suspect that it has the ability to protect the eye skin from dark bruising caused by leaking blood vessels, according to an article published in January 2008 in "Dermatologic Surgery." They mention the findings of another study that found vitamin K reduced dark circles under the eye resulting from laser surgery when taken for two weeks.
Photo Credits:
Creatas/Creatas/Getty Images
This article reflects the views of the writer and does not necessarily reflect the views of Jillian Michaels or JillianMichaels.com.