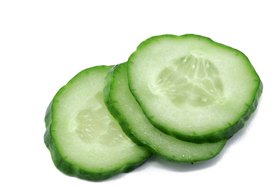 Overview
A cucumber's high water content and low calorie count make it a refreshing, guilt-free snack. Eating cucumbers, as part of a balanced diet, provides several nutrients that nourish the body and contribute to good health. The fresh taste and crisp texture of a cucumber make it a versatile ingredient with an abundance of possibilities. Try adding diced cucumbers to a salad, dipping slices into a low-fat dip or stuffing cucumber strips with chicken or tuna salad.
Vitamin A
Cucumbers are a source of alpha and beta carotene, nutrients that the body can convert to active vitamin A. Medline Plus, a database provided by the U.S. National Library of Medicine, reports that diets high in fruits and vegetables containing beta-carotene may be helpful for improving asthma symptoms caused by exercise, preventing certain types of cancer, reducing the risk of cardiovascular disease and treating a variety of diseases and disorders. One cup of cucumber contains about 47 micrograms of beta carotene and 11 micrograms of alpha carotene.
Vitamin C
Cucumbers contain a small dose of vitamin C, an antioxidant that prevents cell damage caused by free radicals. According to the National Institutes of Health, vitamin C also facilitates the production of collagen, improves iron absorption and enables the immune system to fight viruses, infection and disease. One cup of cucumbers provides approximately 3 milligrams of vitamin C, which is about 4 percent of the 75 milligrams women need each day.
Vitamin K
The body requires vitamin K in order to make proteins to maintain bones, blood and kidneys. Most notably, vitamin K is essential for normal blood clotting. The American Dietetic Association recommends that women consume 90 micrograms of vitamin K each day. Eating 1 cup of raw, unpeeled cucumbers provides approximately 16 micrograms of vitamin K, or 18 percent of your daily requirement.
Other Vitamins
According to the USDA Nutrient Database, 1 cup of raw cucumbers also provides 7 micrograms of folate, which is only a small portion of the 400 micrograms women need on a daily basis. You'll also get 6 milligrams of choline in a 1-cup serving of cucumbers.
This article reflects the views of the writer and does not necessarily reflect the views of Jillian Michaels or JillianMichaels.com.