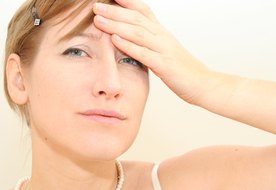 Tulsi, or holy basil, is native to India. The word tulsi means "the incomparable one" in Hindi, which refers to its panacea reputation in the Ayurvedic medical tradition. The herb is considered sacred by the Hindus, who consider its anti-stress effects similar to the feeling of enlightenment. Both red and green varieties of tulsi exist.The warm, aromatic scent of both herb types is reminiscent of cloves. Ayurvedic practitioners often utilize this herb as a tea for the treatment of a variety of health disorders.
Combats Stress
Tulsi may be best known for its stress-lowering action. One study, published in 2007 in "Methods and Findings in Experimental and Clinical Pharmacology," led by Dr. Kapil Sethi from the Medical College of Georgia, tested the anti-stress action of tulsi and found that the herb lowers stress effectively and that the compounds responsible for the effect may be the herb's antioxidants. Tulsi is considered more powerful than ginseng as a remedy for stress, according to well-known alternative medicine expert Dr. Andrew Weil.
Treats Diabetes
Tulsi lowers blood sugar, according to a 1996 study, led by Dr. Pragya Agarwal from Azad University of Agriculture and Technology in India, published in the "International Journal of Clinical Pharmacology and Therapeutics." Researchers found that there was an 18 percent decrease in blood glucose levels of the participants who consumed tulsi daily compared with the placebo group. The study's findings suggest that basil leaves may be prescribed in conjunction with dietary therapy and drug treatment in mild to moderate noninsulin dependent diabetes mellitus.
Protection From Radiation Therapy
Tulsi may offer protection against radiation cancer therapy, although more research is needed before a definitive conclusion can be made about the treatment. According to the University of Maryland Medical Center, prepare a tea from the tulsi root by steeping 1 tsp. in hot water for 10 to 15 minutes and consume the tea three times per day to benefit from the effect. Use tulsi with care if you take medications that thin the blood such as warfarin or aspirin. The herb may increase your risk for uncontrolled bleeding.
Treats Convulsions
Tulsi may be effective for treating convulsions, according to a 2003 study published in the "Indian Journal of Experimental Biology." Convulsions, or seizures, often occur in disorders such as epilepsy. The study, led by Rag Jaggi from Panjab University in India, compared the effect of tulsi against a standard drug used for convulsions called phenytoin, and the extracts of the herb's stem and leaf were found to be effective in preventing convulsions.
This article reflects the views of the writer and does not necessarily reflect the views of Jillian Michaels or JillianMichaels.com.