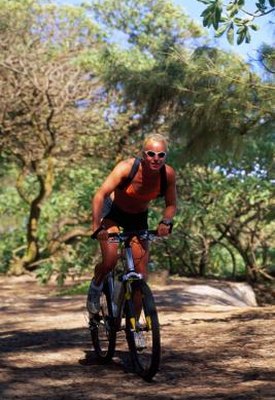 Mountain biking can be an invigorating and fun activity, but biking uphill over rocks and other objects can be both dangerous and physically challenging. Knowing when and how to change gears, as well as how to sit or stand and other strategies for a successful climb, will make your mountain biking journey uphill easier.
Know When to Stand and Sit
The tendency when climbing up any hill on a bike is to stand up and push down on the pedals, but on a mountain bike, you may want to resist that urge. By keeping your buttocks down and toward the back of the saddle, and maintaining a strong, steady cadence, you can make maximum use of your energy as it is transferred into power to keep on biking.
Ride Within Yoursef
When riding uphill, especially with others who are just knocking themselves out to get to the top first, you can sap energy if you try to ride like you've never ridden before. Instead, know your limitations and your strengths and try to ride a consistent pace up the hill. This way, you'll have something left for the end. If you think of breathing while riding uphill on a scale of one to 10, with 10 requiring the hardest effort, try to ride uphill at an eight -- hard but not unreasonable.
Riding Over Rocks
Resist the urge to upshift into an easier gear when you encounter rocks and other objects in your path. Instead, downshift into a harder gear, and keep pushing those pedals. Realize that you can't maintain this pace for a long time, so be prepared to ease off when the terrain allows.
Pedal with Your Whole Foot
You may find yourself pedaling more with the ball of your foot when you ride on a flat surface. To ride uphill on a mountain bike, use more of your heel and the back of your foot, and try to use the entire foot to pedal down during those difficult moments. There will be times when you need to stand, but try to use your leg power and stay as low as possible on those inclines.
Photo Credits:
Thinkstock Images/Comstock/Getty Images
This article reflects the views of the writer and does not necessarily reflect the views of Jillian Michaels or JillianMichaels.com.