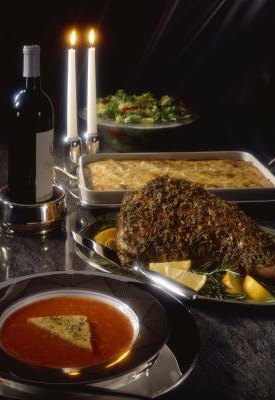 Joints of lamb that benefit the most from using a slow cooker to prepare include the rear leg and the boneless half of leg. When making a leg of lamb in the slow cooker, choose a modest sized cut around 3 to 4 lbs. This size joint of lamb serves six to eight people and requires a 4½-quart slow cooker or larger to prepare.
Step 1
Prepare a rub for the leg of lamb by combining your seasonings -- a mix of garlic, rosemary and black pepper sets off the meat's natural flavors. Mix your spices together, and add a small amount of oil so that the rub forms a paste.
Step 2
Cut a few small slivers in the leg of lamb with a sharp kitchen knife. This allows for the seasonings to penetrate the meat. From here, you can begin to apply the rub to your roast, making sure the meat is thoroughly and uniformly coated.
Step 3
Add the lamb to your slow cooker. If you want to make a full meal, consider adding a few veggies as well. Root vegetables -- including carrots, parsnips, turnips, potatoes and sweet potatoes -- stand up well to long cooking times and absorb some of the flavor of the lamb as they cook.
Step 4
Pour red wine inside the slow cooker with the lamb. Cover and set the temperature of the cooker to low. If you're prefer not to use red wine in your cooking, try using low- or no-sodium vegetable broth.
Step 5
Cook the leg of lamb until it reaches an appropriate internal temperature. For medium-rare meat, look for an internal temperature of 145 degrees Fahrenheit. Medium requires 160 degrees Fahrenheit.
Items you will need
✓

Leg of lamb

✓

Slow cooker

✓

Knife

✓

Crushed garlic

✓

Rosemary

✓

Pepper

✓

Salt to taste

✓

Olive oil

✓

Mixed vegetables

✓

Red wine

✓

Mixing bowl

✓

Meat thermometer
Tip
Although the leg of lamb can be heated raw in the slow cooker, you may decide to brown the meat first for taste and to speed up cooking time. Add a small amount of oil to a frying pan and cook the lamb until it has browned on both sides.
Photo Credits:
Jupiterimages/Comstock/Getty Images
This article reflects the views of the writer and does not necessarily reflect the views of Jillian Michaels or JillianMichaels.com.