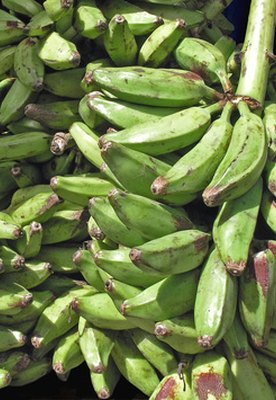 Overview
A plantain is a type of banana that has less sugar than the common yellow banana. Although native to Latin America, Africa and India, plantains are now grown all over the world in warm climates. Unlike a banana, a plantain is not eaten raw but cooked similarly to vegetables. Plantains have been used for centuries in Persia and India as a cure-all and the secret to eternal youth, according to HealthGuidance.org. Plantains are still used today for an array of health benefits.
Internal Benefits
Plantains have a number of internal health benefits. According to HealthGuidance.org, they are a quick source of energy, . Plantains can ease symptoms of a variety of ailments, including arthritis, gout, anemia, allergies, kidney stones, tuberculosis and urinary disorders. They promote digestion, and because plantains enhance calcium, phosphorus and nitrogen retention, they can assist the regeneration of healthy tissue.
External Benefits
Plantains are used in a variety of skin treatments and are a commonly used as an anti-wrinkle treatment. Mash a quarter of a plantain and spread it on the face for 15 to 20 minutes daily. To treat skin allergies, mix a plantain with a cup of milk and drink it two to three times daily. Plantain peels can be used to treat warts; press the inside of the peel against the wart and tape it in place. When the peel turns black, remove it and repeat until the wart is gone. To treat poison ivy, apply the inside of a peel to the rash.
Mental Health Benefits
According to HealthGuidance.org, plantains are a mood enhancer because they contain the amino acid tryptophan. They can also help people who suffer from seasonal affective disorder. High in magnesium and potassium, they also help the body and mind deal with the symptoms of withdrawal from a habit-forming substance.
This article reflects the views of the writer and does not necessarily reflect the views of Jillian Michaels or JillianMichaels.com.