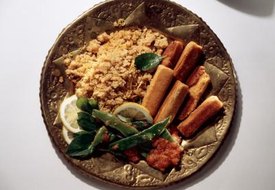 Bulgur wheat is a whole grain made from the kernel of the wheat plant. Cooks use bulgur wheat when preparing a variety of dishes, including salads, breads, soups and even desserts, according to the Wheat Foods Council. Bulgur wheat contains many nutrients, making it a healthy alternative to white rice and other grains.
History
Bulgur wheat is an ancient grain with a toasty, nutty flavor, according to the Utah State University Cooperative Extension. Bulgur wheat comes from the Middle East, where it was a typical component of the daily diet as far back as biblical times. Armenian immigrants brought bulgur wheat to the United States. Bulgur wheat is becoming increasingly popular as a healthy gourmet grain in America.
Significance
Harvested from whole wheat, bulgur wheat has many nutritional properties. The grain is full of manganese, dietary fiber, tryptophan and magnesium. One cup of cooked bulgur wheat contains more than half of your recommended daily value of manganese. By eating a cup of cooked bulgur wheat, you'll also add 8 g of dietary fiber to your diet.
Benefits
The manganese found in bulgur wheat is an important mineral that helps your body properly form bones, connective tissue and sex hormones. Manganese also helps your brain function properly, assists your body in carbohydrate metabolism and contributes to blood sugar regulation, according to the University of Maryland Medical Center. The dietary fiber found in large quantities in bulgur wheat can help your digestive system function properly and contribute to regular bowel movements.
Potential
Replace cooked white rice in your diet with cooked bulgur wheat to experience nutritional benefits. By eating a cup of cooked bulgur wheat, you are adding more than 5 g of protein to your diet. "Fitness" magazine states that bulgur also contains zeaxanthin, a carotenoid that promotes eye health.
Effects
Chef Martha Rose Shulman recommends eating bulgur wheat, especially in place of white rice, because of the grain's many nutritional qualities. Bulgur wheat also is a low glycemic index food, which means it causes only small changes in your blood glucose and insulin levels, especially when compared with rice and potatoes.
Photo Credits:
Eising/Photodisc/Getty Images
This article reflects the views of the writer and does not necessarily reflect the views of Jillian Michaels or JillianMichaels.com.