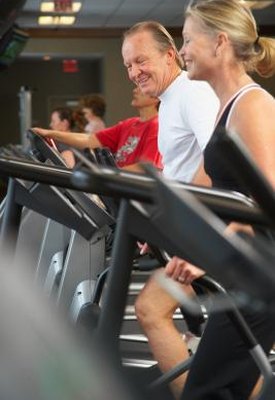 During your 50s, as part of the normal aging process, your muscle mass tends to decrease, your metabolism slows and your risk increases for developing chronic disease. Staying or becoming more physically active in your 50s can counter these and other common effects of aging. Regular aerobic exercise, strength training and flexibility exercises increase your chances of staying healthier for longer.
Aerobic Exercise
The American College of Sports Medicine recommends at least 30 minutes of moderate-intensity aerobic exercise on five days each week for healthy adults under age 65. This amount of aerobic exercise reduces your risk of developing heart disease, some types of cancer and type 2 diabetes. Weight-bearing aerobic exercises, including walking and running, can strengthen your bones and reduce your risk of osteoporosis. Walking, swimming and cycling have a lower impact on your joints and may be beneficial if you suffer from arthritis.
Strength Training
The Centers for Disease Control and Prevention reports that regular strength training may provide up to a 15 percent increase in your metabolic rate. An improved metabolic rate means your body burns more calories, even while you are not exercising. This is helpful for long-term weight control. As you age, strength training also relieves arthritis pain, strengthens your bones and may improve your self-confidence. Participate in muscle-strengthening exercises for your major muscle groups at least two times each week to contribute to better health while in your 50s.
Flexibility
Joint range of motion peaks in your 20s and steadily declines as you age. Participating in stretching exercises in your 50s improves your flexibility and joint range of motion, allowing you improved coordination and balance. Keeping your joints flexible also improves your ability to perform regular daily activities. Stretch your major muscle-tendon groups at least two times each week to improve your flexibility. Stretching exercises should be done while your muscles are warm. This could be during your warm-up or cooldown phase of aerobic or strength training exercises.
Considerations
Exercising while in your 50s may be more challenging than it was in your 20s or 30s. Check with your doctor before starting a new exercise program if you have a condition that may make exercise unsafe for you. Once cleared by your doctor, slowly and gradually work your way up to the recommended amounts of exercise. Doing too much exercise too soon increases your risk of injury, especially if you are not used to exercise. Choose exercise activities that you enjoy to increase your chances of sticking with your exercise plans.
Photo Credits:
Jupiterimages/Photos.com/Getty Images
This article reflects the views of the writer and does not necessarily reflect the views of Jillian Michaels or JillianMichaels.com.