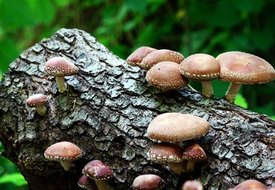 Overview
Maitake mushrooms have been used in the East for thousands of years to treat ailments ranging from high blood pressure to diabetes. The edible mushrooms, also known as Grifola frondosa, are native to northeastern Japan. These mushrooms have shown potential to boost the immune system and combat cancer, according to the American Cancer Society (ACS). Japanese researchers have been studying the healing properties of the fungus since the 1980s, but little research has been conducted on humans.
Immune System Support
Maitake D-fraction, a supplement form of the maitake mushroom, contains a polysaccharide called beta glucan which has shown promise as an immune system booster. A study published in the "Annals of the New York Academy of Science" in 1995 found that when injected into rats, maitake D-fraction improved the function of the immune system. By boosting the immune system, beta glucan may inhibit the spread of diseases, reports the ACS.
Cancer-Fighting Properties
A study by Kobe Pharmaceutical University, published in the "Journal of Medicinal Food" in 2003, found that maitake D-fraction inhibited the growth of tumors in 10 cancer patients. Maitake is thought to have this effect because it stimulates microphages, T-cells and natural killer cells which fight cancer and viral infections in cells. According to the University of Maryland Medical Center, 600 milligrams of maitake D-fraction extract can be taken twice daily to combat cancer. Tinctures of the mushroom extract are also available. As of October 2013, there is not enough reliable clinical research to support the claim that maitake fights cancer in humans, notes the ACS.
Diabetes Management
Maitake mushrooms may help diabetics manage their symptoms. According to a study by Nishikyushu University in Japan, published in 2001 in the "Journal of Nutritional Science and Vitaminology," diabetic rats that were given maitake had lowered levels of blood glucose and fructosamine and an increased ability to retain insulin in their systems. Because of these possible effects, people who have hypoglycemia or who are taking medications to reduce blood sugar should avoid taking maitake.
Weight Loss
The Alabama Cooperative Extension System reports that maitake mushrooms can encourage weight loss, and cites a 1992 study where 30 people took a powdered maitake supplement for two months and, without changing their diet otherwise, lost between 7 and 13 lbs.
Photo Credits:
shiitake on log image by Zlatko Ivancok from Fotolia.com
This article reflects the views of the writer and does not necessarily reflect the views of Jillian Michaels or JillianMichaels.com.