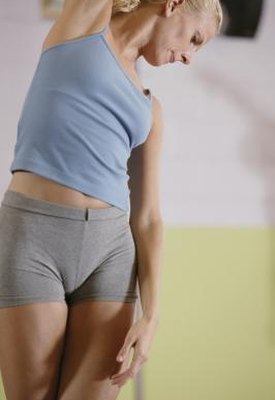 Healthy, balanced nutrition and getting adequate amounts of physical exercise impacts your overall physical and mental well-being. The Centers for Disease Control and Prevention states that healthy eating habits can lower your risk for certain cancers, heart disease, high blood pressure and stroke. Improving your physical fitness and your nutrition will increase your chances of preventing these and other chronic diseases.
Heart Disease
The CDC reports that heart disease is the number one cause of death in the United States. According to the American Heart Association, risk factors for heart disease include healthy lifestyle choices such as how much and what kind of physical activity you get and whether or not you smoke. Excess weight, obesity, high blood pressure, high cholesterol and diabetes can also increase your risk of heart disease. Increasing fitness and improving nutrition habits can have a positive impact on your heart health.
Cancer
According to Dr. Walter Willett, Chair of Nutrition at the Harvard School of Public Health, eating the right diet can help you reduce the risk of developing some types of cancer--including cancers of the mouth, stomach, bladder, colon and breast. He recommends eating a diet high in fresh fruits and vegetables. Additionally, a lack of physical activity can increase your risk for cancer. A healthy diet and better fitness can't provide full immunity from cancer, but they can give you increased protection in some cases.
Stroke
Stroke is the third-leading cause of death in the United States, after heart disease and cancers. Stroke occurs when there is blocked or hindered blood flow to your brains, due artery disease or other causes. The American Stroke Association advises that a poor diet and physical inactivity can lead to an increased risk of stroke.
High Blood Pressure
A 2010 study published in "The American Journal of Hypertension" found that a healthy lifestyle, including physical activity, reduces the risk of developing high blood pressure. Controlling your blood pressure levels makes a significant difference in reducing the risk for heart disease and stroke. You can help balance your high blood pressure by eating a diet rich in fruits and vegetables and avoiding highly processed sodium-filled foods, in addition to taking any prescribed medication.
Mental Health
Regular physical activity and an improved diet can have a positive impact on your mental health. In 2003, a study published in "Preventive Medicine" found that regular physical activity leads to decreased symptoms of depression, panic attacks and anxiety. Foods that can directly affect mood include fruits, vegetables, salmon and eggs.
Photo Credits:
Comstock/Comstock/Getty Images
This article reflects the views of the writer and does not necessarily reflect the views of Jillian Michaels or JillianMichaels.com.