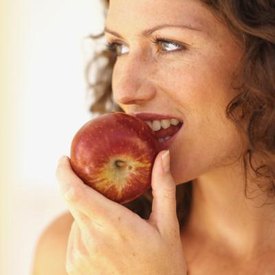 The Centers for Disease Control and Prevention recommends consuming at least five servings of fruits and vegetables every day, including a wide variety of colorful produce to provide the most nutrients. While this may seem like a lot, but the Harvard School of Public Health actually recommends consuming at least nine servings of fruits and vegetables a day, excluding potatoes.
Step 1
Stock up on vegetables and fruits for snacking. Buy apple slices, pineapple chunks or other pre-cut fresh fruit if you're short on time. Canned fruit is another healthy option, as long as you avoid fruit that's been packed in syrup. Buy pre-cut vegetables such as celery and baby carrots, or prepare your own. Give your healthy snacks a prominent, easily accessible spot in your refrigerator. Avoid the temptation to snack on chips, cookies or other unhealthy snacks by leaving them at the grocery store.
Step 2
Add pureed vegetables to other foods for extra nutrition. Cooked and pureed carrots, green peas, spinach, squash and sweet potatoes add flavor, fiber and nutritional value to sauces and soups. This tip can be especially helpful for picky eaters who don't normally enjoy eating vegetables.
Step 3
Leave fruits out in a bowl where you're more likely to see -- and eat -- them. When fruits are stored in the bottom drawer of the refrigerator, it can be easy to forget about them. If they're stored out in the open, you may be more likely to reach for fruit instead of something unhealthy when you need a snack.
Step 4
Use a juice extractor or a blender to make homemade vegetable juice or fruit smoothies. This can help you use up any vegetables that are likely to go bad before you're otherwise able to prepare them. Because fruit-based smoothies are naturally sweet, there's no need to add honey, sugar or any other sweetener.
Photo Credits:
Stockbyte/Stockbyte/Getty Images
This article reflects the views of the writer and does not necessarily reflect the views of Jillian Michaels or JillianMichaels.com.