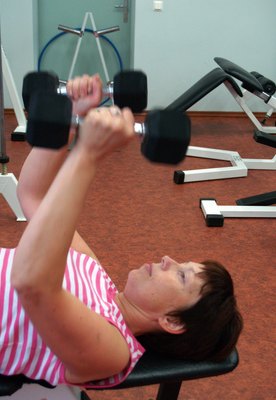 Overview
A home gym provides the convenience of working out at home, which is an appealing option for busy individuals who like to get in a good workout on their own schedule. A dedicated gym area gives you more options for setup, and choosing the gym equipment is only one part of the home gym planning process. The weight of the gym equipment makes a durable gym floor necessary for it to stand up to your workouts.
Carpet
Carpet is a possibility for a home gym, but you should avoid standard home carpet with a high pile. Thick carpet makes it difficult to get the gym equipment to rest flat. The thick flooring may also make the equipment unstable, which presents a safety risk to anyone using the equipment. A low-pile, heavy-duty carpet makes a better flooring option for a home gym. You still get the softer texture of carpet with the added durability. Look for a carpet meant for high-traffic areas, such as the type of carpet used in many office buildings. This type of carpet wears well and provides a firm, flat surface for stable placement of gym equipment. Durable carpet squares offer an option that is easy to install.
Rubber
Rubber flooring presents another home gym option. Some flooring companies sell rubber flooring specifically for use in home gyms. You'll also find rubber flooring meant for garages that works well for the home gym. The rubber flooring often comes in individual squares or rubber tiles, which fit together to cover the entire floor. Other rubber flooring comes in long rolls for a solid surface. Rubber flooring offers the added bonus of being slip-resistant. This proves useful in a home gym environment because you don't have to worry about losing your footing as you perform various exercises. Rubber also absorbs the shock better than other flooring options if you happen to fall, according to The Flooring Lady website.
Laminate
Laminate flooring is a popular option throughout the home. Using laminate in the home gym area provides continuity, making it particularly appealing if the home gym is in a main part of the home. Laminate flooring comes in a wide range of prices and quality. Lower end, cheaper options aren't as durable and won't work well for a home gym that gets a lot of use. Choose a higher quality laminate flooring meant for high-traffic areas.
This article reflects the views of the writer and does not necessarily reflect the views of Jillian Michaels or JillianMichaels.com.