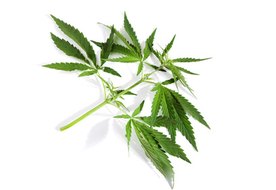 Hemp seeds contain Omega-6 and Omega-3 fatty acids, two essential nutrients for growth, development, heart function and brain function. In fact, the American Heart Association recommends replacing the saturated fats and trans-fats in your diet with Omega-6s and heart-healthy Omega-3s.
Identification
According to the North American Industrial Hemp Council, Inc., hemp is a "bast fiber plant similar to flax, kenaf, jute and ramie." It's quite similar to marijuana in appearance—both plants are members of the "Cannabis sativa" family. The plant requires nitrogen-rich, non-acidic soil—wherever corn grows, the NAIHC says, hemp will likely grow, too. The plant matures quickly, needs few pesticides, and is usually harvested twice, once for its fibers and once for its seeds. While the fibers have industrial uses in making textiles, carpeting, tarps and boat sails, the seeds have become a popular food additive thanks to the number of nutrients they contain.
Misconceptions
Although it's related to marijuana, the hemp plant does not produce enough of the chemical that people need to experience a high when the plant's leaves are smoked. The NAIHC reports that hemp contains less than 1 percent THC, or delta-9-tetrahydrocannabinol, while marijuana contains anywhere from 5 to 20 percent THC.
Hemp and Essential Fatty Acids
According to environmental scientist and hemp consultant Gero Leson, the oil of the hemp seed includes a healthy dose of Omega-6 and Omega-3 fatty acids, including two relatively rare polyunsaturated fatty acids called gamma-linolenic acid and stearidonic acid. You might not realize that all vegetable oils were not created equal—they don't all have both types of essential fatty acids, nor do they have them in the same amounts. Olive, pumpkin and sunflower oil, for example, have no Omega-3s. Hemp seed oil, on the other hand, offers more Omega-3s than the oft-recommended soybean or canola oil.
Hemp and Protein
Leson also reports that hemp protein is compositionally similar to the protein your body manufactures. Composed of albumin and edestine, this protein digests easily, unlike the protein in soy. You've probably heard nutritionists praise eggs, milk and meat as sources of protein, but where does that leave vegans, who eschew all of these? According to Leson, hemp seeds can fill that void; their protein contains all the essential amino acids your body needs, in amounts that are closer to dairy and meat products than any other seed except soy.
Warning
When exposed to high temperatures, the polyunsaturated fatty acids in hemp seeds and hemp seed oil can turn into peroxide. Leson reports that hemp seeds and oil should only be used in recipes that keep the food's temperature below boiling—this rules out frying with hemp oil. If you want to use the oil to sauté, Leson suggests using low heat and keeping enough moisture in the bottom of the pan to prevent any "off-flavors" from forming.
American Heart Association: Omega-6 fatty acids
Blue Shield of California: Shelled Hemp Seed
This article reflects the views of the writer and does not necessarily reflect the views of Jillian Michaels or JillianMichaels.com.