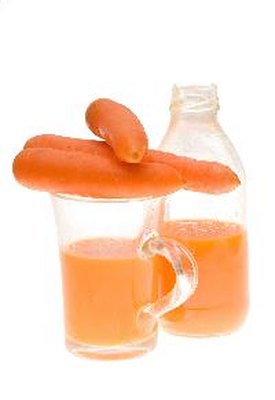 The juice from fresh fruits and vegetables tastes delicious and provides your body with some of the nutrients it needs to function properly. Written history of the ancient Greeks indicates that the Greeks used the juice of fruits and vegetables as medicine, according to Steven Bailey, author of "Juice Alive." Adding freshly juiced fruits and vegetables to your diet is a simple way to increase your consumption of these vital food groups.
Benefits
Fruits and vegetables, either juiced or whole, give you energy to maintain your active lifestyle, help you eat enough vitamins and minerals, offer some protection against cardiovascular diseases and may help you maintain your weight due to the low calorie nature of the fresh fruits and vegetables. The Centers for Disease Control indicates that fruits and vegetables contain a variety of nutrients. Leaving the skin on the juiced fruits and vegetables when possible increases the nutritional value. Juice in the morning, and then store the juice in the refrigerator for a few hours or take a glass of fresh fruit or vegetable juice with you as a healthy liquid snack.
Fruits
Your imagination is the limit when juicing fruits. You can either juice individual fruits such as plain, peeled oranges, or make your own exotic combinations of flavors such as orange, pineapple chunks and papaya. Leave the skin on apples, mangoes and pears. Oranges and pineapples help you meet your vitamin C requirement. Women need 75 milligrams of vitamin C a day. A cup of orange slices has 98 milligrams of vitamin C and fresh pineapple 79 milligrams. Grapes contain healthy antioxidants, called anthocyanins and 1 cup of mango chunks has 60 milligrams of vitamin C.
Vegetables
You may enjoy juiced spinach, cabbage or dark green lettuces, especially if you add a juiced fruit for sweetness. Spinach contains almost 10 grams of protein and 337 mg of calcium per bunch, while romaine lettuce is high in vitamin A. Carrots, a naturally sweet vegetable, offer 230 milligrams of potassium per large carrot -- about 5 percent of your daily requirement. The orange carrots make a visually appealing frothy drink. Beets, cucumbers and celery are low in calories and make a good companion to leafy greens. Juice the leafy tops of celery and carrots, but peel cucumbers if they have a waxy texture. Two juiced tomatoes contain just 44 calories and 32 milligrams of vitamin C. Combine the tomatoes with juiced onion and spinach for a slightly spicy, tangy flavor.
Calorie Considerations
You need just 1.5 cups of fruit and 2 cups of vegetables each day. Because you can drink juice in a shorter period of time than you can chew and swallow the same amounts of fruits and vegetables, you may find that you consume more calories from fruits and vegetables by juicing. Monitor the number of cups of juiced fruits and vegetables you drink each day to ensure you are staying within your overall calorie allotment.
Well-Balanced Diet
Whether you juice your fruits and vegetables or eat them whole, the two are just part of your overall dietary requirements. Adding a grain and a cup of fat-free dairy to your morning cup of juice helps balance your nutritional intake. Make sure you still consume lots of whole veggies and fruits, in addition to their juices. The juicing process removes fruits' and vegetables' natural fiber content, and, as a result, juice lacks the digestive benefits associated with fiber. Use just to supplement to daily fruit and veggie intake, not replace it.
This article reflects the views of the writer and does not necessarily reflect the views of Jillian Michaels or JillianMichaels.com.