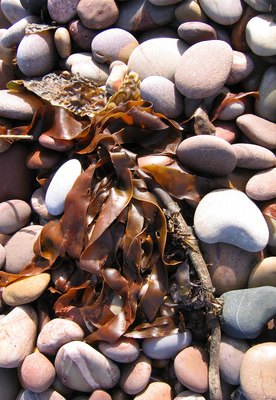 Overview
Kelp, one of several types of edible marine algae, is commonly found on drugstore shelves in tablet, capsule and liquid extract form. Practitioners of alternative medicine often recommend kelp-containing nutritional supplements for the treatment of thyroid conditions and obesity. However, more scientific evidence is needed to confirm the safety and efficacy of kelp. Consult with your medical provider before incorporating kelp supplements into your health care regimen.
Minerals
Phyllis A. Balch, author of "Prescription for Herbal Healing" states, "The trace mineral content of kelp is among the highest of any known source." Indeed, kelp provides a significant amount of a variety of minerals. It contains potassium, needed for muscle contraction, and magnesium, which helps prevent bone loss. Kelp is also an important source of cancer-preventing beta carotene, as well as calcium, which is vital for the development of bones and teeth. In addition, iodine-rich kelp has a long history as a stimulant of thyroid function and it yields benefits in cases of iron deficiency.
Protein
Kelp contains all of the essential amino acids, known as the building blocks of protein, which your body needs to maintain energy, promote repair of damaged tissues and strengthen muscles, according to Balch. Lysine, just one of the essential amino acids contained in kelp, not only aids in lowering cholesterol, but it supports the production of collagen, a substance vital for healthy bones and skin, according to the University of Maryland Medical Center.
Vitamins
A good source of folic acid, kelp may have an important effect on energy metabolism. It also helps to regulate your immune and central nervous systems. Additionally, kelp contains a significant amount of vitamin K, which is important for blood clotting, supporting bone health and reducing the risk of bone fractures.
Weight Loss
Recently, kelp has been marketed as a weight loss supplement. According to a March 22, 2010 article published by the United Kingdom's "Daily Mail," Newcastle University scientists found that a fiber contained in kelp helps to prevent the body from absorbing dietary fat. Findings indicate that alginate, the fiber in question, reduces fat digestion by 75 percent. Researchers agree that more meaningful studies need to be conducted, however.
Prescription for Herbal Healing; Phyllis A. Balch
What You Must Know About Vitamins, Minerals, Herbs & More; Pamela Wartian Smith, M.D.
This article reflects the views of the writer and does not necessarily reflect the views of Jillian Michaels or JillianMichaels.com.