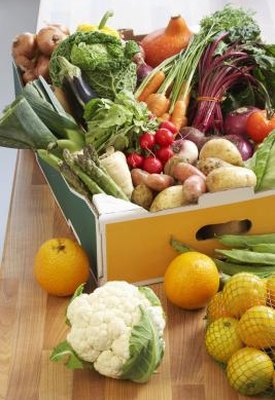 The greatest dietary value is found in nutrient-dense foods. These types of foods have low calories per serving and strong content of more than one essential nutrient that is beneficial in large amounts. They also have little or no nutrients that harm the body when consumed in large amounts, including saturated fat, cholesterol, sodium and sugar. Your diet should revolve around nutrient-dense foods and be complemented by other healthy dishes of nutritional value, versus the "empty" calories in junk foods.
Cooked Spinach
The 41 calories of a single cup of cooked spinach house a wealth of nutrition that supports wide-ranging body functions. Cooking spinach leaves actually raises their nutritional value, concentrating vitamins A, B, C, E and K as well as dietary fiber, iron, magnesium, calcium, potassium and protein. Daily values, or DVs, of these nutrients are moderate to high. By FDA standards, a serving of spinach provides 20 percent or greater DVs of most of those essential nutrients, with only a trace of saturated fat.
Fresh or Canned Salmon
Compared to meats, poultry and other seafood, salmon has the greater nutrient density and variety. Less saturated fat and cholesterol and more of hard-to-obtain omega-3 fatty acids and vitamin D increase salmon's dietary value. Strong protein and several B vitamins make fresh or frozen salmon a good substitute for other animal-based sources of these nutrients, in only 184 calories per 3 ounces. Pink salmon canned with its soft, edible bones offers a further boost of calcium, which most other protein foods don't provide.
Whole-Grain Cereal
A low-sugar, high-fiber fortified cereal is one of the most nutrient-dense prepared foods that you can buy. Some wheat bran cereals carry fewer than 80 calories along with 20 percent DV or more of fiber, iron, folate and vitamin B-12. Certain varieties may contain 100 percent DV of some vitamins and minerals. Check the label for specific amounts.
Non-Fat Milk
Your main calcium source may be milk, with 1 cup containing 35 percent DV and just 83 calories. Milk's nutritional profile includes significant protein and vitamins A and D, with additional vitamin B and potassium content.
Whole Oranges
Whole oranges have high fiber and extremely high vitamin C values that your body needs for efficient digestion and a healthy immune system. Juicing removes some fiber, so the USDA suggests consuming whole fruits most often. A single orange provides nearly 75 percent of your entire daily allowance of vitamin C in only 62 calories.
Photo Credits:
Martin Poole/Digital Vision/Getty Images
This article reflects the views of the writer and does not necessarily reflect the views of Jillian Michaels or JillianMichaels.com.