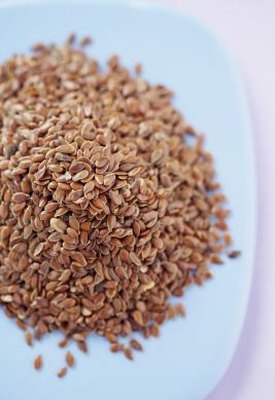 The flax plant is native to Europe but is now cultivated all over the United States and Canada. Flaxeed oil, also called linseed oil, is extracted from the seeds of the flax plant. Before beginning to use flaxseed oil, consult with your healthcare provider for instructions.
Flaxseed Oil Uses
Flaxseed oil has a very long tradition of medicinal use for a variety of ailments. The website for the U.S. National Library of Medicine (USNLM) specifies flaxseed as a medicinal treatment for attention deficit hyperactivity disorder, dry eye syndrome, heart disease, high cholesterol or triglycerides and menopausal symptoms. Ground flaxseed itself is recommended as a proactive weapon against breast cancer, diabetes, high blood pressure, kidney disease/lupus nephritis, constipation and prostate cancer.
Research
The National Center for Complementary & Alternative Medicine (NCAAM) website delineates the results of various clinical research studies on the effects of flaxseed and flaxseed oil. Flaxseed and flaxseed oil have shown some mixed results in clinical tests, but some of the results do look promising as to lowering cholesterol levels and reduce menopausal symptoms. The NCCAM is funding further research to study the possible cancer preventing effects of flaxseed.
Possible Side Effects
Some possible side effects are associated with taking flaxseed or flaxseed oil, but overall it is considered to be safe in recommended amounts, according to the USNLM site. The site cautions people with diarrhea, irritable bowel syndrome, diverticulitis, Crohn's disease or ulcerative colitis to avoid using flaxseed since it may cause these conditions to get worse. The site also warns against using flaxseed or flaxseed oil during pregnancy or breastfeeding, since animal studies have shown possible harmful effects on the unborn or nursing infant.
Potential Interactions
Taking flaxseed or flaxseed oil along with other medications or supplements may cause harmful interactions. The website for the (UMMC) University of Maryland Medical Center advises people who take blood thinners, diabetes medications, cholesterol-lowering medications or non-aspirin pain relievers such as ibuprofen or naproxen to avoid the use of flaxseed or flaxseed oil. The USNLM website adds that flaxseed or flaxseed oil should not be taken at the same time as other medications or supplements, since its use may interfere with their proper absorption. They add that people taking St. John's wort, kava or valerian avoid also taking flaxseed or flaxseed oil. If you have questions about whether flaxseed or flaxseed oil will harmfully interact with other medications or supplements you take, discuss it with your pharmacist or health care provider.
Forms Used
Flaxseed oil is available in both liquid and softgel capsule forms. Flaxseed oil can turn rancid if not used in a few weeks, and should be kept refrigerated. Flaxseed oil loses its medicinal properties when heated, so do not use it in cooking. The properties of flaxseed oil are destroyed by light, heat and oxygen, so be sure to keep it away from these until use. Read the labels carefully, and buy only flaxseed oil products that certify that no heavy metals have been added.
Considerations
Some people can have dangerous allergic reactions to flaxseed and flaxseed oil. Allergic reactions can happen even if the person has been exposed before with no reaction. Watch for signs of swelling of the lips, tongue, face or throat when using flaxseed products. If any of these occur, stop using the supplement and contact your health care provider.
Photo Credits:
Jupiterimages/Stockbyte/Getty Images
This article reflects the views of the writer and does not necessarily reflect the views of Jillian Michaels or JillianMichaels.com.