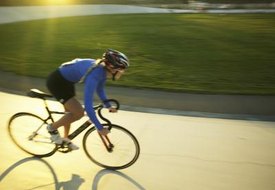 A triathlon bike is a specialized road bike designed to optimize aerodynamics for increased performance. During the bike leg of a triathlon, participants are not permitted to ride in the draft of other riders and must ride through the wind alone. Road cyclists ride in the draft of other riders, reducing energy expenditure by 30 to 40 percent. The issue of aerodynamics, while important, is not as great a concern for road cyclists in comparison to triathletes. A triathlon bike differs from a road bike in a variety of ways.
Cockpit
One of the most obvious differences between a triathlon and road bike is the cockpit: the handle bar, brakes and shifters. When examining the cyclist and bike as a unit, the cyclist accounts for roughly 70 to 80 percent of the total frontal area. In order to decrease the frontal area of the rider and reduce drag, a triathlon bike is fitted with aero bars. Shifters are located at the end of the aero bars, allowing the rider to shift while in the aero position. However, the brakes are located on the base bar, requiring the rider to move from the aero position in order to apply the brakes. Riding in aero bars in a tightly packed group is dangerous. Road bikes possess integrated brake and shift levers located on a traditional drop handle bar. Positioning of the levers on the handlebar provides the cyclist with easy access to shifting and braking, which increases safety while riding in a tightly packed group.
Tubing
Traditional road bike frame tubes are round in shape. In order to reduce drag, triathlon bike frames are manufactured from foil shaped tubes. The foil shape reduces drag by decreasing turbulence as air passes over the frame. Manufacturing a frame from foil shaped tubes increases the weight of the frame in relation to a similar level road frame. Triathlon frames provide an advantage in aerodynamics, while a road frame provides an advantage in weight reduction.
Geometry
Geometries will differ slightly between road and triathlon bikes. A typical road bike will possess a 73- to 74-degree seat tube angle. A typical triathlon bike will possess a seat tube angle of 76 to 78 degrees. This steep seat tube angle allows for a more forward position on the bike leading to increased aerodynamics. While time trial bikes and triathlon bikes appear similar they can differ in geometry. Union Cycliste Internationale regulations require that the nose of the saddle, on a time trial bike, be at least 5 cm behind the center of the bottom bracket. This ruling effectively limits the maximal seat tube angle to 76 degrees. Triathlon bikes are currently under no such regulation.
Frame Design
The UCI requires that road bikes posses a double triangle design. One triangle consisting of a top tube, down tube and seat tube and the second triangle consisting of a seat tube, seat stays, and chain stays. Triathlon bikes are not subject to these same regulations.
Wheels
Wheel choice varies by personal preference, type of race, terrain, and the rider's budget. However, triathlon bikes are typically equipped with deep dish wheels in order to improve aerodynamics and road bikes are typically equipped with lower profile wheels to decrease the overall weight of the bike.
Photo Credits:
Ryan McVay/Digital Vision/Getty Images
This article reflects the views of the writer and does not necessarily reflect the views of Jillian Michaels or JillianMichaels.com.