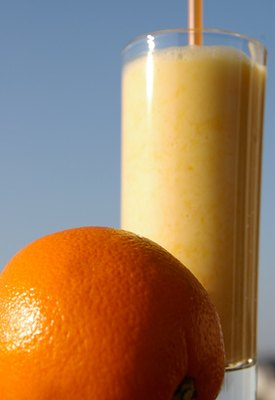 Fruit smoothies are a delicious and easy way to add vitamins and minerals to your diet. With a little knowledge, you will be able to combine delicious fruits in your own recipes to maximize their effect. A well-balanced smoothie can contain potassium, magnesium and calcium, vitamins A, C, E and K and powerful antioxidants. You will want your smoothie to contain favorite flavors too, which is when combining fruit becomes fun.
Step 1
Select a source of potassium. Frozen orange juice is rich in potassium and other minerals, and vitamins A and C. Other good potassium sources are bananas, which give smoothies a silky texture, or berries, which will add a powerful hit of antioxidants, thought to help prevent many diseases related to aging.
Step 2
Select your source of vitamin C. If your smoothie doesn't have a citrus base, add strawberries or kiwi fruit.
Step 3
Select a source of vitamin A. Cantaloupe, apricots, mangoes and most berries are sources of vitamin A. Another option is to use cranberry juice as your liquid ingredient.
Step 4
Add magnesium and calcium. Mixed berries already contain as much nutrition as fruit can offer you. If you are utilizing milder flavors, a base of frozen pineapple juice will boost the mineral content of your smoothie.
Step 5
Place all of your chosen ingredients into the blender along with 1 cup fat-free vanilla frozen yogurt or 3/4 cup fat-free milk and mix until smooth. Experiment with different combinations until you find a favorite.
Items you will need
✓

Blender

✓

Fat-free vanilla frozen yogurt or fat-free milk

✓

Fruit juice

✓

Diced fruit
Tips
If your smoothie needs a little sweetening, add honey rather than sugar.

If you prefer not to use dairy products, experiment with a larger quantity of frozen juice.
Photo Credits:
Smoothie orange image by Frédéric Massard from Fotolia.com
This article reflects the views of the writer and does not necessarily reflect the views of Jillian Michaels or JillianMichaels.com.