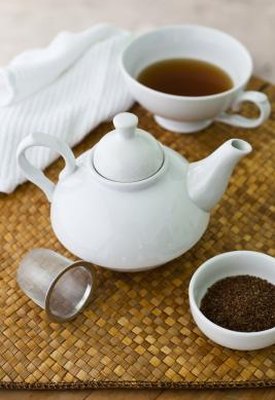 Overview
Mullein tea comes from the mullein or verbascum thapsus, a member of the snapdragon family. Mullein has soft wooly leaves and produces one flowering stem that grows two to eight feet tall. The leaves are dried or used green to make tea. Mullein tea is a medicinal tea used to treat a variety of ailments, including colds and diarrhea, and is prized for its antimicrobial activity.
Antimicrobial Activity
Mullein used in tea is an antimicrobial. A study by Joy R. Borchardt, et al., published in the May 2008, issue of the "Journal of Medicinal Plants Research" examined 597 plants that were screened for antimicrobial activity. One of the plants tested was verbascum thapsus, also known as mullein. It was found to have antimicrobial activity. Mullein tea is a natural, preservative-free antimicrobial agent that may help treat disease caused by drug resistant microorganisms.
Expectorant
Mullein tea is a common home remedy for coughs, colds and other respiratory ailments in the United States and Mexico, according to an article by Lourdes Rodriguez-Fragoso, et al., published in the February 2008 issue of "Toxicology and Applied Pharmacology." It has been shown effective against influenza and the herpes simplex viruses. Mullein has expectorant properties, which is why it is an ingredient in herbal cough remedies, according to Steve Brill in "Identifying and Harvesting Edible and Medicinal Plants in Wild (and Not-So-Wild) places."
Tuberculosis Treatment
Mullein tea is a common herbal treatment for respiratory ailments. It is used for its antibacterial and antimicrobial activity in a variety of chronic lung problems such as bronchitis, asthma and emphysema. Tuberculosis (TB) is a microorganism that affects the lungs, causing them to bleed, and eventually leads to death. TB is treated with antibiotics, but new drug-resistant strains of TB have been reported in over 50 countries worldwide, according to Elbhlin McCarthy and Jim M. O'Mahony in an article published in the August 2010, issue of "Evidence-Based Complementary and Alternative Medicine." Because of mullein's anti-microbial activity, it may be an effective botanical source for drugs used to treat TB. According to a clinical study by R.J.B. Quinlan, M.D., M.R.I.A., F.K.Q.C.P., published in the January 1883 "British Medical Journal," mullein has positive effects on patients with consumption -- another name for TB. Dr. Quinlan gave patients suffering from consumption mullein milk tea. This consisted of mullein leaves boiled in milk and given to the patient twice daily. The mullein tea resulted in cough relief and eased diarrhea and weight gain. The study showed mullein to be beneficial in cases of TB. Larger studies are necessary for the results to be conclusive.
Photo Credits:
Full House Images/Lifesize/Getty Images
This article reflects the views of the writer and does not necessarily reflect the views of Jillian Michaels or JillianMichaels.com.