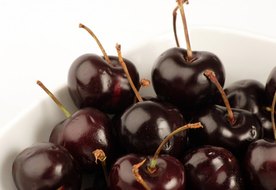 Overview
It's no secret that adding fruits to your diet promotes good health by providing you with essential vitamins and minerals. Fruit juice is another way to increase consumption of fruits, as long as its made with 100 percent juice without added sugars and flavors. Black cherries and black cherry juice offer remarkable health benefits. According to Cherry Juice Power, the Cherry Marketing Institute has funded scientific research on the health benefits of cherries at the University of Michigan for years. Through this research, scientists have discovered that cherries provide improved health and mobility, while helping protect against disease.
Antioxidant
According to Cherry Juice Power, "Dietary antioxidants are believed to play a role in reducing the risk of various human degenerative diseases caused by free radicals in our bodies." Free radicals are toxins that can damage healthy cells, and antioxidants help to rid your body of these free radicals. Black cherry juice, along with tart, red cherries, has the highest antioxidant potency of all fruits and vegetables, according to Dr. Boxin Ou, principal research scientist at Brunswick Laboratories in Wareham, MA.
Gout Treatment
Compounds in cherries can relieve pain for the millions of people that suffer from gout. According to Joint-Pain.com, uric acid in the blood is one of the most common causes of gout pain; cherry juice can help lower levels of uric acid. A study at the University of California Davis showed that consuming a serving of cherries daily "significantly lowered the blood uric acid levels of women by as much as 15 percent," according to Joint-Pain.com. Cherry juice alone was shown to have a similar impact.
Arthritis
Black cherry juice helps to relieve arthritis pain due to its anti-inflammatory properties. In an interview with Dr. Eve Campanelli in Prevention magazine, she revealed that 85 percent of her arthritis patients experienced at least partial relief of pain by drinking two glasses of black cherry juice twice a day.
Prevention of Muscle Damage
The antioxidant and anti-inflammatory properties in black cherries may help decrease and prevent symptoms associated with exercise-induced muscle damage, according to a study published in the British Journal of Sports Medicine. In the study, "Fourteen male college students drank 12 fl. oz. of a cherry juice blend or a placebo twice a day for eight consecutive days." On the fourth day, the students performed elbow flexion contractions to test their strength, pain and muscle tenderness. Results showed that students drinking the cherry juice lost only four percent of muscle strength over four days, versus 22 percent who drank the placebo.
Photo Credits:
black cherry's image by Martin Garnham from Fotolia.com
This article reflects the views of the writer and does not necessarily reflect the views of Jillian Michaels or JillianMichaels.com.